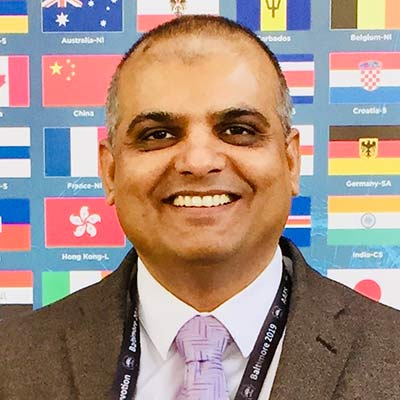 Baneshwar Singh, Ph.D.
Associate Professor
Faculty Adviser, DDE
(804) 248-6336
Harris Hall South, 1015 Floyd Ave., room 2010
Education
Ph.D., Biology, West Virginia University, Morgantown
M.S. (Fisheries Resources Management), CIFE, Mumbai, India
B.S. (Fisheries) Dr. BSKKV (Agricultural University), Dapoli, India
Research Interests
Application of human microbiome in body fluid identification, human individualization, and trace evidence analysis
Molecular systematics and microbiology of blow flies and flesh flies
Method development for recovery of human DNA from challenging samples
Method development for postmortem interval (PMI) prediction
Select Publications
Cartozzo, C., Simmons, T., Swall, J., and Singh, B. (2021). Postmortem Submersion Interval (PMSI) estimation from the microbiome of Sus scrofa bone in a fresh water river. Forensic Science International.
Seashols-Williams, S., Green, R., Wohlfahrt, D., Brand, A., Tan-Torres, A. L., Nogales, F., Brooks, J. P., and Singh, B. (2018). An accurate bacterial DNA quantification assay for HTS library preparation of human biological samples. Electrophoresis, 39 (2), 2824-2832.
Singh, B., Minick, K., Strickland, M., Wickings, K.G., Crippen, T.L., Tarone, A.M., Benbow, M., @Sufrin, N. and Tomberlin, J.K., and Pechal, J. (2017). Temporal and spatial impact of human cadaver decomposition on soil bacterial and arthropod community structure and function. Frontiers in Microbiology.
Singh, B., Crippen T., Zheng, L., Fields A., Yu, Z., Ma, Q., Wood, T.K., Dow, S., Flores, M., Tomberlin, J.K., and Tarone, A.M. (2015). A metagenomic assessment of the bacteria associated with Lucilia sericata and Lucilia cuprina (Diptera: Calliphoridae). Applied Microbiology and Biotechnology, 99(2), 869-883.
Singh, B. and Wells, J.D. (2013). Molecular systematics of the Calliphoridae (Diptera: Oestroidea): Evidence from one mitochondrial and three nuclear genes. Journal of Medical Entomology, 50, 15-23.
Affiliations
North American Forensic Entomology Association (NAFEA)
Associate Member of the American Academy of Forensic Sciences (AAFS)
Courses
FRSC675 - Forensic Serology and DNA Analysis
FRSC591/FRSC505 - Forensic Entomology
FRSZ/BIOZ438 - Forensic Molecular Biology
FRSC385 - Forensic Serology
FRSC300 - Survey of Forensic Science