Real-World Learning
Practical, real-world work experience is the key to success in careers in forensic science.
We offer a variety of internship and independent study opportunities for students interested in pursuing a career in forensic science. These opportunities provide you with hands-on experience in a variety of forensic disciplines and allow you to gain valuable skills and knowledge in areas such as crime scene investigation, laboratory analysis and courtroom testimony.
You may also explore signature study abroad programs curated specifically for forensic science majors that let you earn credit while exploring your discipline in dynamic environment.
Many students find opportunities over the course of their VCU studies to perform research-based and hypothesis-driven independent studies to deepen their understanding of a research topic of interest.
Internships enable students to earn 1-3 academic credits while gaining valuable forensic science experience. Previous internship sites include the State Crime Laboratory, the Office of the Chief Medical Examiner and the U.S. Secret Service.
Explore this information sheet with specific opportunities curated for our majors by the VCU Global Education Office that qualify for REAL credit.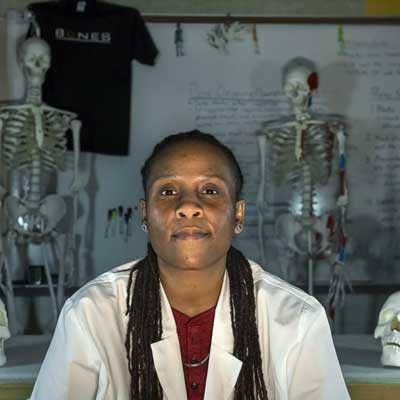 Forensic science major, a Navy veteran and former PI and correctional officer, studies ancestral remains from the East Marshall Street Well Project to help determine ancestry.