B.S. in Forensic Science
With a B.S. in forensic science from VCU, you'll know how to process a variety of evidentiary items, such as an unknown white powder, fiber or even a bloodstain.
You'll understand the laws of criminal procedure and the rules of evidence, as well as how to process a crime scene. You'll gain insight in one of three concentrations: forensic biology, forensic chemistry or physical evidence. When you graduate, you'll be ready for a career in DNA analysis, latent print examination, firearm and toolmark analysis, crime scene investigation, drug analysis, forensic toxicology or other areas. And with the department's extensive hands-on laboratory experience, you'll be a marketable candidate for employment in research, industrial and/or pharmaceutical labs.
Our graduates will:
Be prepared to pursue advanced degrees in the physical sciences, biological sciences, forensic science, law, allied health and medicine
Have a breadth of knowledge provided by a liberal arts approach to the discipline and by hands-on experience in the laboratory
Learn principles of evidence collection and preservation, forensic chemistry, forensic molecular biology, microscopy, criminalistic examinations, ethics, QA/QC and professional practices
Learn the importance of the scientific analysis of physical evidence and its place in the criminal justice system
Concentrations
All three concentrations are fully accredited by the Forensic Science Educational Program Accreditation Commission (FEPAC).
Forensic Biology
The forensic biology concentration prepares students for graduate studies as well as for careers in the biology section of forensic laboratories. Graduates of this program will be prepared to work in molecular biology laboratories in both the public and private sectors. This concentration also encompasses much of the requirements for many pre-health programs and pre-professional health programs.
Forensic Chemistry
The forensic chemistry concentration prepares students for graduate studies as well as for careers in toxicology and chemistry sections of forensic laboratories.
Physical Evidence
This concentration is well-suited for students interested in graduate study or careers in latent fingerprint examination and the analysis of impression evidence, as well as firearm and toolmark analyses. Students also will be prepared for work in private analytical laboratories.
All About the B.S. in Forensic Science
There is a lot to know if you are thinking about a degree in forensic science! Let us help guide you to getting the answers to all your questions by watching this video prepared especially for prospective students.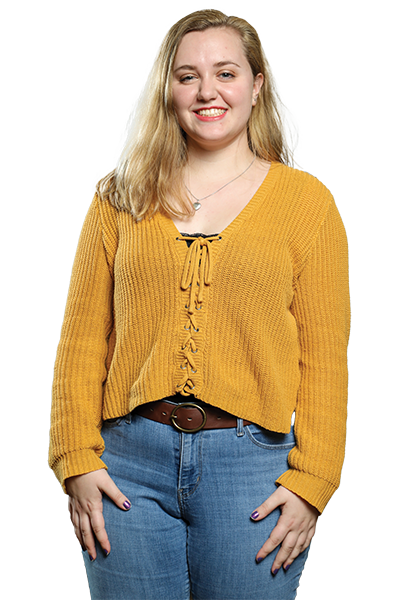 "I decided to major in forensic science because the major takes the most useful parts of so many other fields and uses them
to help people. There are so many different disciplines within the major and the field that you can do almost anything. Even if you don't want to be a forensic scientist in a lab, you can still go to medical school or become a crime scene investigator after graduation."

Kendall Gehring, Forensic Science student