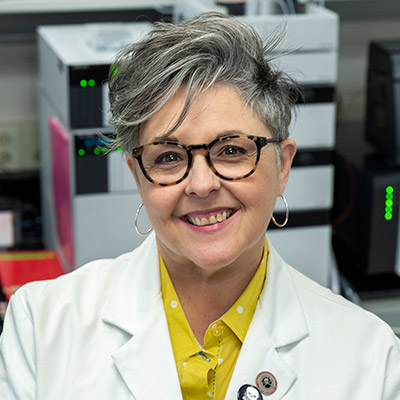 Michelle R. Peace, Ph.D.
Associate Professor
(804) 828-8420
Grace E. Harris Hall South, 1015 Floyd Ave., room 2016
Office hours: Mondays 12 p.m. to 2 p.m.
Education
Ph.D., Pathology, Virginia Commonwealth University (2005)
M.F.S., Forensic Science, George Washington University (1996)
B.A., Wittenberg University (1991)
Research Interests
Peace has been funded by the National Institute of Justice since 2014 to study the efficacy of electronic cigarettes, particularly as they pertain to substance use and abuse. Her total award for 5 years has been $2.3M. Her research has highlighted emerging issues of electronic cigarettes as a tool for vaping drugs other than nicotine and has characterized the merging of the cannabis and e-cigarette industries. Her current project is a clinical study to assess the impact of vaping on roadside impairment evaluations for suspected DUI and drug testing.
Peace's interests include emerging toxicology issues that impact public health and public safety, such as the proliferation of novel cannabinoids and the manipulation and use of electronic cigarettes to consume drugs other than nicotine. She also provides language and scientific support for developing new laws, policies, and strategies to protect consumers, improve highway safety, and inform substance use treatment. Other interests include standards development in the practice of forensic toxicology and new designer drug trends.
Select Publications
Affiliations
Member, Society of Forensic Toxicologists
Fellow, American Academy of Forensic Sciences
National Safety Council, Drugs, Alcohol, and Impaired Driving Division
Courses
FRSC 645: Applications in Forensic Toxicology
FRSC 644: Analytical Considerations in Forensic Toxicology
FRSC 490: Professional Practices in Forensic Science
Awards
Society of Forensic Toxicologists, Teaching and Mentoring Award (2021)
Medical College of Virginia Alumni Association, Hodges-Kay Service Award (2018)
International Vision Fellow of the Institute of Environmental Science Research, New Zealand (2018)
Links