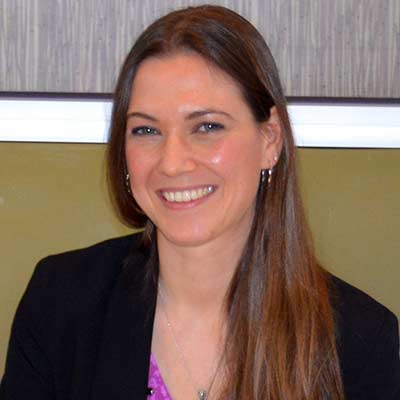 Catherine Connon, Ph.D.
Assistant Professor
Undergraduate Program Director
(804) 495-1159
Grace E. Harris Hall South, 1015 Floyd Ave., room 2012
Office hours: Mondays 11 a.m. - 12 p.m.; Thursdays 1 p.m. - 2 p.m.
Additional Titles
In addition to serving as an assistant professor and undergraduate program director, Dr. Connon is also the internship, independent study and study abroad coordinator.
Education
Ph.D., Biology (specialization in forensic molecular biology), University of North Texas, 2015
M.S., Forensic Science, Virginia Commonwealth University, 2006
B.S., Biological Sciences, University of Missouri-Columbia, 2003
Bio
Dr. Connon is an assistant professor in the Department of Forensic Science at VCU, teaching several of the forensic biology track upper-level courses. She started her career in forensic molecular biology in 2006 with LabCorp in their Forensic Identity Department – a private, ASCLD accredited DNA laboratory with ISO 17025 certification formerly located in Research Triangle Park, NC. Following LabCorp's acquisition of Orchid Cellmark (later Cellmark Forensics), Dr. Connon relocated to Dallas, TX to join Cellmark's forensic R&D group, where she remained until 2015. During her employment with LabCorp/Cellmark, she served various roles, including processing forensic DNA casework, developing and validating new procedures, serving as a QA representative, manufacturing and reviewing forensic serology and DNA proficiency tests, and mentoring undergraduate and graduate student interns. Currently, she is a consultant for Bode Technology in northern Virginia and is working towards a certificate in Forensic Genetic Genealogy. Prior to her forensic molecular biology career, Dr. Connon worked in a plant genomics laboratory at the University of Missouri assisting with research involving various strains of maize mitochondrial genomes and maternally inherited diseases.
Research Interests
Anything and everything related to forensic biology!
Improvements to forensic biology/DNA analysis procedures and workflow (efficiency, better results, cost savings)
Development of presumptive and confirmatory tests for EDTA detection in forensically relevant blood samples
Developing and implementing effective teaching strategies for forensic biology courses
DNA analysis softwares
Select Publications
Connon CC, Greenspoon SA, Simmons T. Crafting an Effective Virtual Classroom in the COVID-19 Pandemic. Journal of Forensic Science Education 2020;2(2).
Vineyard AR, Hazelrigg EJ, Ehrhardt CJ, Connon CC. Evaluation of Bluestar® Forensic Magnum and Other Traditional Blood Detection Methods on Bloodstained Wood Subjected to a Variety of Burn Conditions. Journal of Forensic Sciences 2019; 64(3).
Emily R Brocato, M. Katherine Philpott, Catherine C Connon, Christopher J Ehrhardt. Rapid Differentiation of Epithelial Cell Types in Aged Biological Samples Using Autofluorescence and Morphological Signatures. PLOS ONE (2018).
Cox JO, DeCarmen TS, Ouyang Y, Strachan B, Sloane H, Connon C, Gibson K, Jackson K, Landers JP, Dawson Cruz T. A novel, integrated forensic microdevice on a rotation-driven platform: Buccal swab to STR product in less than 2 h. Electrophoresis 37:23-24 (2016) 3046-3058.
Connon CC, LeFebvre AK, Benjamin RC. Development of a Normalized Extraction to Further Aid in Fast, High-throughput Processing of Forensic DNA Reference Samples. Forensic Science International: Genetics 2016; 25C: 112-124.
Affiliations
American Academy of Forensic Sciences | Fellow
Mid-Atlantic Association of Forensic Scientists | Member
American Board of Criminalistics | Molecular Biology Diplomate
Courses
FRSC 300: Survey of Forensic Science
FRSC 385: Forensic Serology
FRSC/Z 438: Forensic Molecular Biology and Lab
FRSC 490: Professional Practices in Forensic Science
FRSC/Z 675: Serology and DNA Analysis and Lab
Awards
VCU CHS | GROWTH Award (2022)
Forensic Sciences Foundation | Lucas Grant (2018)